The start of 2015 had me reflecting on how much I enjoy the gentle but powerful nature of Craniosacral therapy and the benefits that it brings for my clients.  The unique way it works with each person's body is quite fascinating and I've enjoyed watching many stories unfold.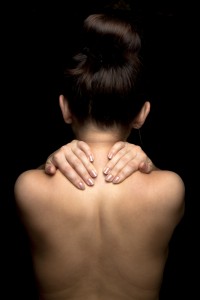 Many folk arrive wanting relief from physical complaints – a painful shoulder, sore neck, bad back, migraines etc – and each session works to 'unstick' another layer of deep tension to reveal an easier, softer, more aligned body and frequently relief from symptoms.   Recent issues tend to respond more quickly than long-standing problems where more sessions might be needed.  But you may not realise there are further benefits to be had from this subtle bodywork.
Craniosacral works by my 'listening' through my hands to what your body is saying.  In this way we both become aware of any places of 'stuckness' that relate, not only to your physical tissues, but more to the emotional side of yourself.  Sometimes memories and feelings arise that relate to past events.  This leads to a process of exploration that can be quite liberating – all at a pace that is led by your body – so changes can become integrated.   Ultimately it's an embodied way of taking a look at your own personal history.   The fact that this is even possible can be a surprise at first – but if you're intrigued by what your body is trying to tell you, Craniosacral can be a fruitful step towards wellbeing and wholeness.
In one client's words:
Craniosacral Therapy has been a new experience for me, but one which I have benefited massively from. 

Jess has an amazing ability to put you at ease, and using her hands has helped me to feel physically and emotionally stronger and more in contact with my own self.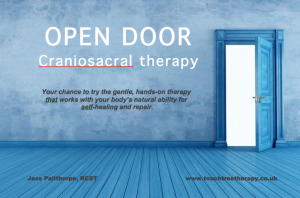 So I've been thinking about how I might offer you the chance to 'dip in' to this therapy, in an easy way, to feel how this may work for you.  It's so much better to experience a session and feel the benefits for yourself.  So I'm introducing 'Open Door Craniosacral'.  For a day each month I open the doors at my clinic space, to offer 30 minute sessions of Craniosacral for £20 at Leominster Osteopaths or Kingsland Clinic from 10-2pm.  These sessions start on Wednesday 4th February 2015 and will continue on the first Wednesday of each month.   You can simply ring to book your session now: 07981 866 667.  Also, 'like' my Facebook page for further info.   My regular practice runs as usual throughout the week should you wish to further your exploration in hour-long sessions.  Take a look at my website for further information on Craniosacral therapy.
It couldn't be easier to take a step towards wellbeing this year!  Enjoy your session…