Who am I? Hmmm, let's see ….
First there was the 'career me'.  I spent my formative years working at the BBC as a researcher, which, as jobs go, was exciting. However, shortly after the birth of my first daughter I received a proper Holistic Massage and my focus began to shift. Like many new mums I was feeling vulnerable and exhausted, and yet that simple massage session began to put me back together again. I realised that therapeutic touch was simple and also deeply profound… and I was curious.
Unlocking the past
Since then I've explored many forms of bodywork and I've found Craniosacral therapy particularly helpful.  As well as the wonderful physical benefits of  having a stiff neck un-stuck, or a tight shoulder unwound – I've discovered much about my personal childhood history through the body.   I had a perfectly 'normal' childhood and always knew that I was adopted as a baby.  Surely no trauma in that? But, as I  have discovered, the body remembers more than the mind cares to.  The body's natural response to frightening situations (flight, fight, freeze) can remain 'stuck' in the system, so to speak, frozen in time.  For me, it affected who I felt I was, in subtle but important ways.  I didn't truly feel 'right' or 'safe' or 'real'.  Exploring all of this, bit by bit, through the body has been empowering.  I'm now trained in Craniosacral therapy – which provides a wonderfully safe and potent way to explore the body and mind in all its complexity.   It's a privilege to help others on their own exploration too.   I haven't looked back.
My qualifications, at a glance
2004/5 – Diploma in Holistic Massage, Anatomy, Pathology & Physiology, Bristol College of Massage & Bodywork
2006 – Diploma in Thai Massage, Bristol School of Thai Massage
2007 – Infant Massage Teacher, Solace Training, Shrewsbury
2012 – Certificate in Sports Massage, Hereford College of Technology
2012/13 – Diploma in Biodynamic Craniosacral Therapy, Resonance Trainings, Stroud
I'm a member of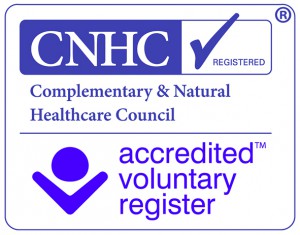 Each year I undertake advanced training
to keep my skills fresh and to engage in new and exciting approaches.    I've undertaken further training around working with trauma – and this continues to be an ongoing area of study.  Over the years I've also studied deep-tissue work, joint mobilization, emotional processing, pregnancy massage, rhythm mobility and Zero Balancing.   I also receive regular 'mentoring' through supervision – an essential part of my working life.
Nowadays I'm based in rural Herefordshire
where I grew up, and I live with my partner, two lovely daughters and a silly dog called Ruby. We muddle along the well trodden path of juggling work-life, child rearing and having fun along the way. When I'm not working I enjoy the countryside and occasionally get time to do some yoga. Buddhist practice is another important aspect of my life and I continually aim to bring mindful awareness more fully into my everyday life.
I think, in a nutshell, that's me.  If you'd like to get in touch to find out more or to book a session – Tel: 07981 866 667.