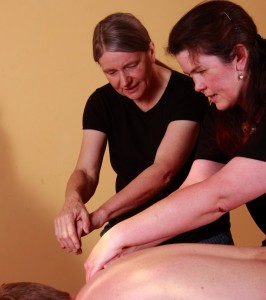 The 'Bristol College of Massage and Bodywork' has been offering professional Holistic Massage Training for over 20 years and their dynamic, creative and person-centred approach is now available in Worcester as well as Bristol.  I have been lucky enough to be involved with this innovative training at The Fold, Bransford, near Worcester, alongside tutor Sarah Cohen.
Holistic Massage combines many skilled techniques with natural sensitivity in order to meet the needs of each individual as a whole.  You can learn this vibrant style of massage practice by joining the next professional Diploma course. Or if you just want to dip your toe in the water, try our Introductory weekend courses which run throughout the year.
The professional Diploma takes 11 months to complete and the training days are arranged over weekends (some 2 days, some 3 days) roughly every month.
On successful completion of the course you will gain a Diploma in Holistic Massage and Anatomy, Pathology & Physiology.  The qualification is accredited by the 'Massage Training Institute'.  You are then ready to gain insurance and set up in professional practice.
There are a variety of job opportunities
Self-Employed – full or part time
Working in a Gym/Leisure Centre/Health Spa
Working at a GPs surgery
Working in the voluntary sector
Diploma course
The current Diploma course is underway and the next one starts in February 2017.  Do get in touch with Tutor Sarah Cohen for further details and an information pack.
Introductory weekends
We also offer Introductory 2-day weekend courses throughout the year.  This is a fun way of learning massage for friends and family and finding out more about our creative approach.  These are suitable for complete beginners.