Supporting women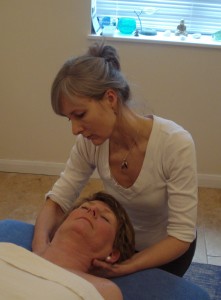 In recent years I have specialised in supporting women who are experiencing physical and/or emotional difficulties.
You may want to ease aches & pains, recover from illness or injury or be going through a difficult time emotionally with stress, anxiety or a challenging life situation.
A series of sessions of Craniosacral therapy.can help with tension and injury in the body.  You can begin to feel calmer, more at ease, with a bit more vitality to tackle whatever comes your way!
A little unravelling goes a long way
In the midst of your busy lives it can be hard just to stop and take time for yourself. Often we feel the need to 'hold it all together' or 'soldier on'.   However, slowing down and unravelling patterns of tension, injury, stress and hurt can lead to a greater sense of being YOU and getting on with what excites and interests you in life!. I aim to provide a nurturing, supportive space where you can do that.
A few reasons that clients come to see me
Bad backs, neck, shoulders
Headaches, muscular tension
Old or more recent injuries: eg: from car accidents, falls etc
Emotional trauma relating to life events
Feeling stressed / anxious / unable to sleep
Feeling very tired
Going through personal difficulties such as divorce, bereavement, parenting, caring for someone, long-term illness, depression etc
Pregnancy
Times of change
There can be many moments of transition in a woman's life –  motherhood, menopause … to name a few.   I particularly enjoy helping women negotiate times of change.    Using a holistic approach means that we can focus on your body, with its changing physiology, alongside your broader emotional landscape.   It's all important.
Pregnancy
I enjoy using sensitive bodywork to help ease the journey into motherhood.   Common pregnancy-related issues such as back-ache, muscular tension or fatigue can respond well – and you'll feel safe and supported along the way.
For many women who come to see me, things haven't gone smoothly in their reproductive lives.  Infertility,  IVF, miscarriage, ectopic pregnancy can be facts of life for many of us – and I hope to provide a safe arena, using sensitive bodywork, to help you.    It's not about fixing or solving, it's more about acknowledging and nurturing.
An honest point
I can't guarantee to cure,  fix or diagnose things for you – but one thing I can guarantee is to work with integrity and honesty, using my professional skills to work together to help you feel better.  My experience is that we make progress.  Occasionally it may be sensible to involve other health professionals such as osteopaths, physiotherapists or counsellors etc. to best suit your needs.  We will always discuss this first.  And of course you should always seek advice from your doctor as and when needed.
Therapy for men
I also work with men in my practice so if you're looking for treatment for someone that you know – friend, family, husband, partner – then please feel free to give me a ring.